Hello guys, It's Nexses here and I'm bringing you the Melina Wiki News a little early simply because I won't be able to post it twomorrow. So anyway here's your latest news to keep you going for this week.
Melina vs. Velvet Sky
Don't forget this week marks the clash of the titans also known as Velvet Sky and of course Melina. This is definately a match you won't want to miss, and certainly I won't be missing it either.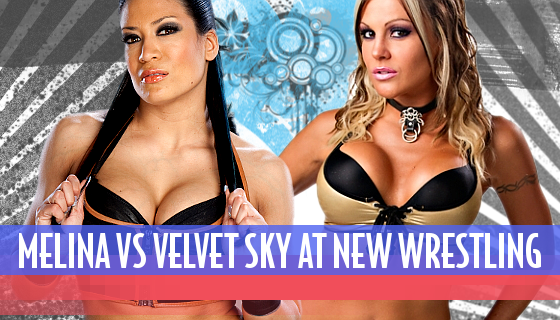 Melina's AfterBuzz Shows
In case you weren't aware Melina does shows on AfterBuzzTV also sometimes along with Jomo. If you haven't seen any be sure to check them out @RealMelina.com or get the link from Melina's twitter directly @RealMelina.
Match of the Week
That's it for this weeks folks, apart from the upcoming huge match it was pretty dry. So we'll be sure to post the results up from the match as soon as we get 'em.
--ⓝⓔⓧⓢⓔⓢ 21:34, March 18, 2012 (UTC)
Community content is available under
CC-BY-SA
unless otherwise noted.