Introduction
Hello guys, I've been asked by Karliah to create a news blog for the Melina Wiki, so today is the new first edition of this brand new news blog. We'll have a new one every Monday and on special occaisions we'll have it even sooner, so now we've plenty of these to look forward to. So enjoy the post.
Melina's Birthday
Just last Friday (March 9th) it was Melina's birthday! So feel free to send her any late birthday wishes via her Twitter @RealMelina. I know it's hard to believe but Melina is actually 33!
Upcoming Melina Match
That's right, Melina's getting back into the ring once again! She's set to appear at NorthEast Wrestling on March 23rd and 24th. Melina's opponent for both shows has been announced which will be TNA's Velvet Sky! Two of the most talked about and popular female wrestlers in the history of the buisness will finally meet and clash in the ring for the first time ever. If you can I'd advise you to be there, but for those who are unable to get to it we'll have to wait on a video or report of the match to see any of it.
Wrestlefest 16, Friday March 23rd in Pougekeepsie, NY.
March Mayhem, Saturday March 24th in Waterbury, CT.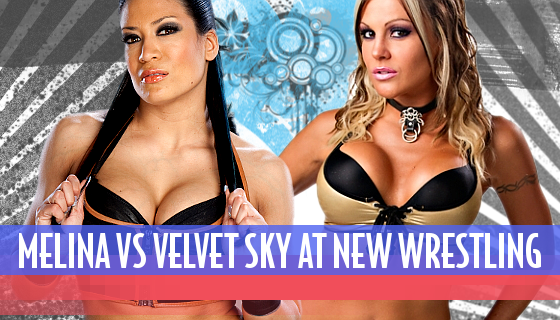 Source:[RealMelina.com]
Melina Match of the Week
Melina vs Michelle McCool for the Women's Championship in a Lumberjill match.
That's all for this week, --ⓝⓔⓧⓢⓔⓢ 07:26, March 13, 2012 (UTC)
Community content is available under
CC-BY-SA
unless otherwise noted.