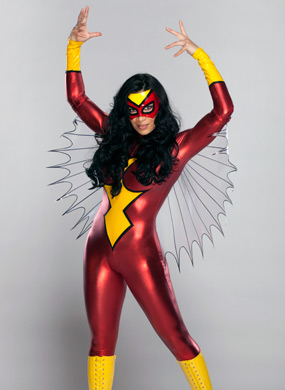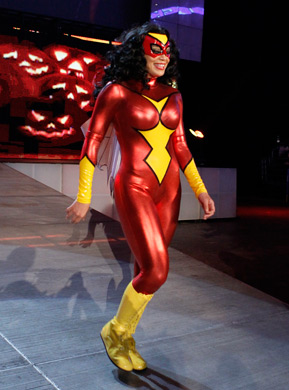 On a Halloween special, Melina came out wearing her very own Spider-Woman costume. It's the first time Melina had worn the costume, and the only time to date. She even posted some Twitter pictures of her wearing it when she got home, and we might put them up here in the future.
Things you might not have known:
Melina first wore this at a costume contest.
LayCool made fun of her costume, which led to a tag-team match.
Although Melina's team won, she herself didn't do too well as she kept getting beaten down by Alicia.
Melina reported via twitter that she is dying to wear it again and might wear it again at a fan meet and greet interview event.
After the event she had a photoshoot, one of the photos is show at the right.
Melina gave us a sneak preview of this costume through Twitter.
Melina says she wants to wear it every Halloween.
Community content is available under
CC-BY-SA
unless otherwise noted.